This is my new iron! Although it is rather expensive and more than I would have normally considered paying, it came with excellent reviews and that is a great selling point. I read reviews and I suggest you do the same before making any substantial purchase of this kind. Read on to find out why this iron is worth the money!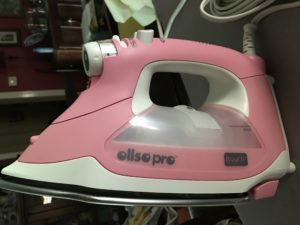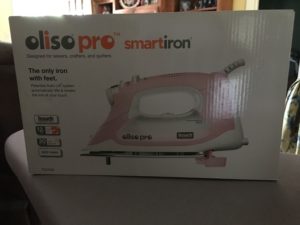 Oliso TG1600 Smart Iron / Steam Iron – Pink Color iTouch Self Lifting Technology – Auto Shut Off – Multiple Steam Iron Options – 1800W – Extra Long Cord 12 with 360° Rotation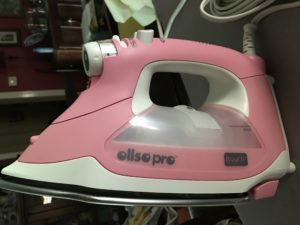 My iron, after ten years, quit working. It literally wouldn't turn on when I plugged it in. I was really disappointed because this was a good iron. It was a Shark iron and chances are it wasn't working properly for a while. It would get really hot (and I liked this) and I was able to iron the best creases that stayed put forever. I only wear cotton and cotton/linen blends and I tend to purchase the same for my husband and I am very particular about my ironing.
When I am ironing, I take my time to make sure my creases are just so and I like to make them easily, meaning I don't want to have to iron back and forth a hundred million times to set that crease. With the Oliso iron, I just go one way and then back and my creases are set.
Another feature I absolutely LOVE, LOVE, LOVE about this iron is its feet! Yes! This iron has feet! AND, they automatically do their thing! I (much to Hubby's chagrin) am someone who does not set the iron back up while I am rearranging the piece of clothing I am ironing. He keeps waiting for me to set the ironing board cover on fire. The Oliso's feet raise it up off of the board the moment I remove my hand and upon the slightest touch, the feet lower and I am back to ironing. How awesomesauce is that?! This is an iron that quilters and sewers enjoy using. You can reach over and press a seam open and shove the iron to the side knowing its little feet will pick it up off of the board to prevent scorching and burning.
AND DID I MENTION IT IS PINK?! MY FAVORITE COLOR!!! Hubby actually asked me if that was why I purchased the iron. He knows me well because that was the biggest selling point. All those excellent reviews? Well, let's say I lucked out!
The Oliso also has a very long cord. This makes ironing easy as the cord isn't constantly in the way as with other irons.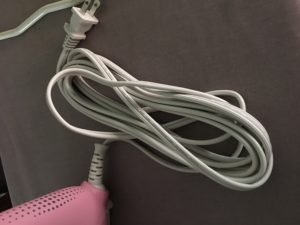 Ummm…I think this photo is on its side. The iron comes with a water cup and the fill spout is on the side of this iron as opposed to the front as I have seen in most irons. I really like that feature. I find that the water doesn't pour out all over the place as you fill the iron.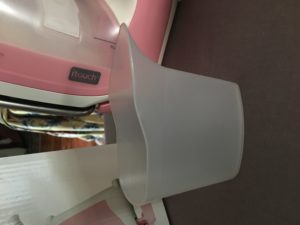 In addition to the feet, Oliso also sports the other pre-requisite such as auto shutoff. I have been using the iron for about a month now and I have to report that I am absolutely loving it. It is a little weighty, but I don't find that to be a problem. I have listed additional information from Amazon. I can definitely give this iron a 5-star rating.
From Amazon –
SCORCH-FREE SMART IRON: The Smart Iron by Oliso® uses iTouch Technology to lower itself when it detects your touch, and the patented Scorchguards™ lift the iron back up when you let go. Plus, the iron automatically shuts off if left untouched for 8 minutes, or in 30 seconds if it is knocked over. No more burns or scorches – on you or your clothes! The Smart Iron is the perfect solution to safely and effectively dry and steam iron your garments.

BUILT TO MAKE IRONING EASIER: The Smart Iron was built with OnePass™ Technology to make quick work of laundry piles and, best of all, reduce strain on wrists and shoulders caused by repetitive lifting. The scratch resistant, extra thick stainless steel soleplate glides smoothly over fabric as you iron. The pointed 2-inch detailer tip provides easy access to pockets and cuffs. Iron any garment with ease and precision.

SMART STEAM: The Smart Iron features powerful horizontal and vertical steam which makes it a perfect tool for frequent pressing and ironing. The steam stops when you let go of the iron. Tripleplay™ Xtremesteam gives you 3 choices for steam: Continuous, Horizontal Burst, and Vertical Burst. The iron is anti-drip so that water never leaks.

ADDITIONAL FEATURES: Oliso®'s Smart Iron features an extra-large (12.7 oz) side access water tank, a long 10'8″ Cord with 360-degree pivot, and 1800 watts of power that will get the iron ready for use in just seconds. The Smart Iron's temperature can be digitally controlled for consistent precise heating. A large water fill cup comes included.

WHY OLISO®? Oliso® designs products that simplify everyday life and address users' needs. Each Smart Iron includes a 1-year limited warranty that you can rely on. Award Winning: Named by Time Magazine as a "Best Invention". Men's Health calls it "the first real advancement in ironing technology since those little apartment-size boards. Plus, it's fun to watch." and Martha Stewart Living agrees that the Smart Iron "Makes ironing easy, even a little fun."
Follow My Life. One Story at a Time. for future book reviews, promotions, and giveaways!
My Life. One Story at a Time.
A free book may have been provided by the source in exchange for an honest review. Views expressed by authors are their own and do not necessarily reflect the views of My Life. One Story at a Time. My opinions are my own. This provided in accordance with the FTC 16 CFR, Part 55.
Disclosure – Please be advised that some of the links provided are affiliate links and I do receive a small commission if you make a purchase using those links.  This does not cost you any extra when you make a purchase, and I only recommend products I use personally and believe will add value to my readers. I very much appreciate your support of this blog in doing so!
Shop Amazon - Best Selling Products - Updated Every Hour