When I first saw these I started drooling. I'm not kidding! With Blue Bell ice cream off the shelves, I am on the prowl to satisfy my chocolate cravings!
I am a huge fan of cupcakes and muffins are quite similar in my book. And, aren't muffins good for breakfast? I was thinking – why not combine the two? You just can't go wrong with this muffin!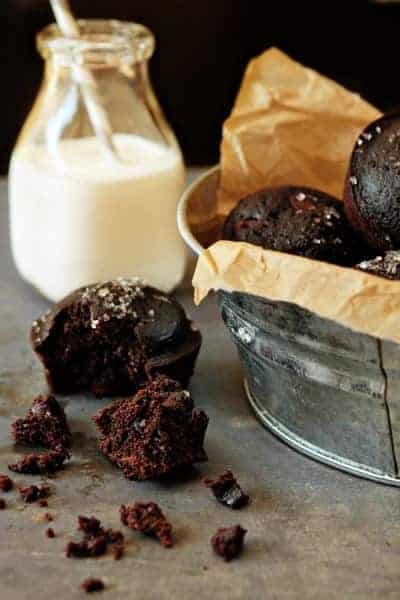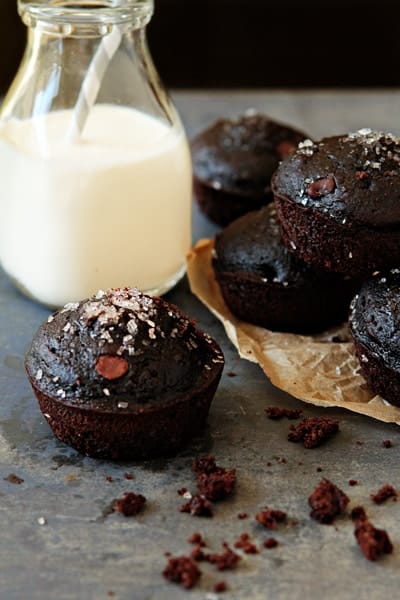 These delicious, dark chocolate muffins aren't over the top sweet, so you won't feel too guilty about indulging in one as a mid-morning snack. The addition of espresso takes the chocolate experience to whole different level while the semi-sweet chocolate chips offer a little texture and added sweetness.
If you like a little crunch in your breakfast, add some walnuts, sunflower seeds or pecans. They'd all be a wonderful addition to an already pretty phenomenal breakfast experience.
YIELD: 12 muffins

PREP TIME: 15 minutes

COOK TIME: 20 minutes

INGREDIENTS:

1 3/4 cups all-purpose flour
2 teaspoons baking powder
1/2 teaspoon baking soda
3 tablespoons dark unsweetened cocoa powder (Hershey's Special Dark)
3/4 cup sugar
3/4 cup semisweet chocolate chips, plus 1/4 cup for sprinkling
1 cup milk
1/3 cup vegetable oil
1 large egg, lightly beaten
2 teaspoons instant espresso granules dissolved in 2 teaspoons hot water
1 teaspoon pure vanilla extract

DIRECTIONS:

1. Preheat the oven to 400 degrees F. Lightly grease a standard muffin tin, or line with 12 paper muffin cups.

2. In a large bowl, combine the flour, baking powder, baking soda, cocoa, sugar, and 3/4 cup of the chocolate chips.

3. In a medium bowl, combine the milk, oil, egg, dissolved espresso granules, and vanilla; whisk to combine.

4. Add the wet ingredients to the dry ingredients and stir until just combined. Batter may be slightly lumpy – that's okay.

5. Divide the batter between the prepared muffin wells. Sprinkle the remaining 1/4 cup chocolate chips on top of the muffins.

6. Bake in preheated oven for 18-20 minutes or until the muffins are dark, risen and springy.

NOTES:

– I sprinkled the tops of my muffins with a little coarse sugar for added sparkle and texture.
– The muffins are best served the day they are made, but will keep in an airtight container at room temperature for about 1 day.
– If you don't have dark cocoa powder, you can substitute regular unsweetened cocoa powder.
– If you don't have instant espresso granules, you can simply omit this ingredient.

Borrowed from – http://www.mybakingaddiction.com/
Shop Amazon - Best Selling Products - Updated Every Hour