Happy New Year everyone! What is everyone doing today? We are having a quiet day at home.
I moderate a couple of groups on Facebook – one is Simplifying and Planning 101 where my intention is to help people simplify their lives through cleaning and purging, and helping others to plan and prioritize their time to be more productive. The second group is The Southern Charm Planners. This is a fun group where we share pictures of our planners and once again, I help to find solutions to time management problems and offer planning advice.
I mentioned in a post a few days ago that my task word for 2018 is "prioritize". My personal word for 2018 is "intentional." While I hope to simplify my life in general – my home, my busy life, I chose "Intentional" as my word
for 2018. As I mentioned before, I'm new to the "choosing a word" thing.
I want to be intentional about my life. I want each thought to be intentional – no angry thoughts in my head. I want each purchase to be intentional – no more wasting money. I want each move to be intentional – exercise, walk more, stretch. I want each meal to be intentional – healthier meals. I want to pray more – no more putting it off until I have time. It should be at the beginning of my day and not the end. I won't go on. lol I'm sure the picture is becoming clear. 
My word has been rolling around in my head and seems to have settled down in a spot all its own, which is good. It means that I've already begun my journey even though today is the first day of the year.
I'm curious. Do you choose a word each year or do you fly by the seat of your pants? While that seems to work for some, I am not one of those people. I look forward to hearing if you've chosen a word, and if so, what the word is and why you chose that particular word if you would like to share.
Thank you for visiting and I hope you've found some interesting if not helpful information here.
Coming soon – Notebook app and how I use it for organizing, and yes, how did I make my notebooks so cute?!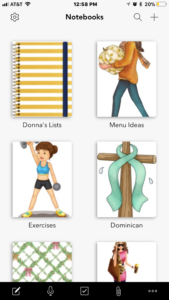 Shop Amazon - Best Selling Products - Updated Every Hour