Everyone would love an organized home and life, but is it really attainable? In my opinion, yes. But, it takes work to accomplish this feat. Are you willing to have a place for everything and put everything in its place? If you are, then you can attain a state of bliss, or close to it.
I wrote about using Evernote as an organizational tool on my phone and computer. Organizing and simplifying doesn't just mean your home (although I'll be addressing the home in future posts). In order to find peace in a chaotic world, that also means your phone. If your phone looks anything like my phone used to look, it is full of apps and most of them I am willing to bet you do not use. And, just as cute items in your home are difficult to part with, so are the cute apps on your phone. App developers have learned that what the eye sees will sell the app long before what the app does. That is why I am doing a short series on organizing apps that I feel stand the test of time, and are also cute (appealing to the eye). Sorry! I am all about the cuteness!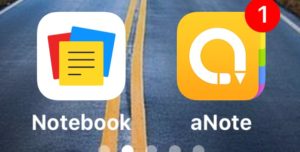 These are two apps that I love for different reasons. Today, I will be touting the greatest of aNote. All of the apps I will be discussing are available on the iPhone and Apple Computers. I am not sure about the Android phones.
I absolutely love the filing system of aNote. The one negative I have found with the app is that it is not available on my MacBook Air. That has been the only con for me.
I will not be going into all the features of the aNote app, only those that I use. It seems I learn something new about this app every day. I love the folder system that aNote uses. There is a variety of colors to choose from which come in handy when coordinating groups of files, AND it makes it pretty. I'm all for organization and time management, but I'm all about pretty too!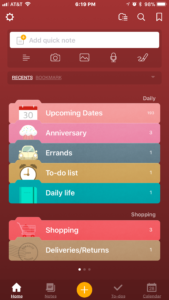 The first file – I use Upcoming Dates for important meetings, appointments, birthdays, etc. that I want to see at a glance. I can set alarms and make dates repeat every day, month, year, etc. My Google calendar on my phone has many more items in it and I don't necessarily need to look at everything every day.
I set up the Anniversary file just to have a place to look quickly and see when our kid's anniversaries are. I think the file was already on it so I used it.
Errands – a checklist. Needs no explanation. The same with my To Do list. When I'm away from home and I need to jot down something to do, I put it there. It's a temporary holding file for me.
Daily Life – I use this for journaling. You can add pictures and make notes. It's fun, not a necessity.
Now, Shopping – That is a necessity! In this file, I have three notes at the moment. I have an ongoing list for Lowes, Office Depot, and Hobby Lobby/Michaels. When I'm in the area, I have my lists readily available.
The Delivery/Returns folder gets most of my attention. I have a checklist here for when I order online. I have a system set up with icons that show me ordered, shipped, out for delivery, and return. At a glance, I can see the status of an ordered item.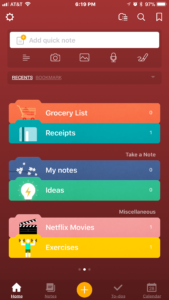 On the second screen, I have Grocery List but I no longer use this for my list. I do not have the option of moving items around (veggies together, items in order of the store). I use Notebook for my list and I'll get into that app in another post.
I use Receipts as a temporary holding file. I can snap a picture of a receipt and store it there for easy access and then delete it when it is no longer needed.
The My Notes and Ideas files need no explanation. I have them there for light bulb moments.
I use my Netflix Movies file to list movies I want to watch in a checklist form. After I watch a movie, I check it off.
The Exercise file holds a checklist of exercises I do from physical therapy. I have my exercises listed in order and check them off as I do them.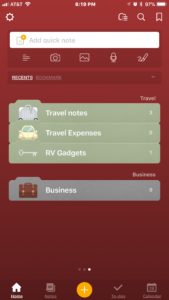 I love my travel folders. I haven't used them much yet, but hope to really utilize them in 2018 as we begin traveling again. I did use the Travel notes this month to hold a wedding invite, hotel reservations, and a packing list. It really worked great to have everything in one place. Since it was a destination wedding, I had a picture of the invitation along with our hotel reservations, and it stored a Google map (three destinations – hotel, church, and reception) that I just had to click on. I also had a specialized packing list for that event that I used. There are other apps that are for traveling, but that means another app. This app allows me to store a lot of files in one place.
In my Travel folder section, I also set up a file for expenses. I plan to store copies of receipts and track our spending when we travel. We also plan to purchase an RV so I've collected a list of "must haves."
Last, but not least because I can add many more folders, is the Business file. We own a construction/rental holding company and I will be using this file for notes and whatever.
You will notice a check at the bottom called To-dos. If I click on it, it will bring up my Upcoming Dates folder. The little icon tells me I had something that was on the calendar today that I haven't checked off. If I click on the calendar icon, it will show me my Google calendar. Notes will show all of my notes, regardless of which folder they are in, and Home brings me to the folder line-up.
There are a few other features available and if you download the app, you can play around and learn them all. Overall, I love this app. I have things in one place and I'm not hunting down different apps for different tasks. It is all in one place which saves me time and energy.
Another of my favorite apps is Evernote. If you haven't read that post and would like to, you can read it here.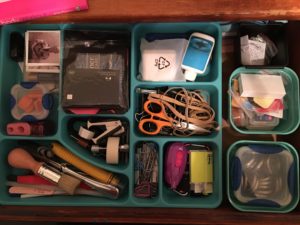 I can finally stop the search for my perfect drawer organizer. Every drawer is different and I had one drawer in my desk that I just couldn't unjunk for some reason. I found an organizer at Wal-Mart the other day and it is perfect. My drawer is finally organized. This drawer is a holding place for a host of different items, which made it difficult to organize to my liking. Mission finally accomplished!
I hope you found this information helpful. I'll be exploring other apps on my phone in future posts so I hope you'll be back to visit.
Please let me know in the comments what apps you find helpful.
Shop Amazon - Best Selling Products - Updated Every Hour