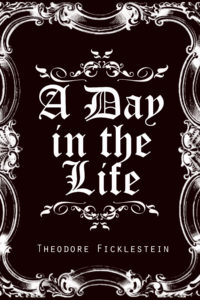 A Day in the Life Synopsis
Meet a YA narrator who hates YA books.
A Day In The Life is Theodore Ficklestein's debut novel about Nickolas Cripp, a college student finding his way in the world. Although Nick won't admit it, he is the main focus of a young adult book that follows him from his home to college to the city, where he wants to attend an open mic.
Along his path, he encounters a teacher who asks about the apocalypse, a drunk on the train and two friends who feel writing isn't Nick's strong point, among others. Nick soon finds out that the funniest things in life aren't that funny at all, and the greatest comedians never go up on stage.
As he goes through his day, one oddball character at a time, Nick starts to question if the comedy club he dreams of being in, is really for him. Should he be who he wants to be? Or who the world thinks he should be? Neither of which, he is entirely sure about.
A personal journey of self-discovery through the eyes of a youth yearning for meaning in a meaningless world; Nick learns that in life, the joke is on you.
Online Links:
Official Website: theodoreficklestein.com
Twitter: twitter.com/theodorefickle
Goodreads: https://www.goodreads.com/book/show/35446255-a-day-in-the-life
Amazon: 
Kindle Edition

Biography
Theodore Ficklestein is an author, blogger, and poet. His books include This Book Needs A Title Volumes 1 and 2 and I Killed the Man Who Wrote This Book. His first novel Day In The Life will be published by Gen Z Publishing in 2017. His multiple blogs include This Blog Needs Sports, This Blog Needs Poetry and This Blog Needs Movies.
Follow My Life. One Story at a Time. for future book reviews, promotions, and giveaways!
My Life. One Story at a Time. A free book may have been provided by the source in exchange for an honest review. Views expressed by authors are their own and do not necessarily reflect the views of My Life. One Story at a Time. My opinions are my own. This provided in accordance with the FTC 16 CFR, Part 55.
Disclosure – Please be advised that some of the links provided are affiliate links and I do receive a small commission if you make a purchase using those links.  This does not cost you any extra when you make a purchase, and I only recommend products I use personally and believe will add value to my readers. I very much appreciate your support of this blog in doing so!
Shop Amazon - Best Selling Products - Updated Every Hour