I'm a planner girl. I'm sure you've heard the term across social media. There are many of us out there and paper planning has experienced a resurgence over the past five years. I have used a paper planner for thirty years and as long as I can pick up a pen and write, I will continue to do so. While I am also a "techie", I just haven't adapted to having my calendar on my phone. I need to "see" the big picture when I look at a month. And, what the heck! I love stickers! And you just cannot put stickers on the phone!
My journey began a long, long time ago with an A5 size. If you are wondering what that means, the paper size is a half sheet. When I became a member of different organizations and took on officer duties, I switched to a full size sheet planner to accommodate the wealth of information I needed to track. These days I switch it up between my Travelers Notebook (half-size) and a personal size planner. I don't have so much to track these days but I still enjoy writing down my weekly tasks and appointments.
I thought I'd share a few pictures of my personal size planner. I love the size because I can toss it into my back bag and take it when I leave the house.
Being Southern, I must have my name on everything! This particular planner and the May Books that I use in my TN work with my particular planning style. I am a list maker, but I also like specified tasks on the day they are done. I am able to accomplish these in this particular planner by making my lists in the lined columns and putting my dailies in the daily boxes. Most planners today have a pocket at the back for papers and stickers and this planner is no exception. I loved this planner so much that I ordered my 2018 planner with this same company. The only difference being I purchased an unbound (coil) hole-punched version so I can use my personal size Filofax in 2018. I like the flexibility of adding additional pages when needed. Although, with all of the different hole punching systems on the market today – office and craft supply companies have stepped up to the plate – it is now possible to have a hole puncher that will allow you to add pages to every planner on the market.
This particular planner is a product of Limelife Planners and if you use my referral code –  http://rwrd.io/a3i6hdm you can received $10 off of your purchase. There are several different covers available and many different planner page styles available, both vertical and horizontal. As you can see from the photos, this planner is workhorse for me. Are you a paper planner? What system do you use?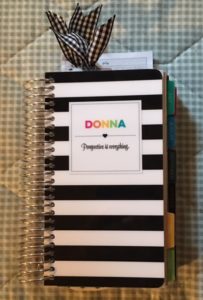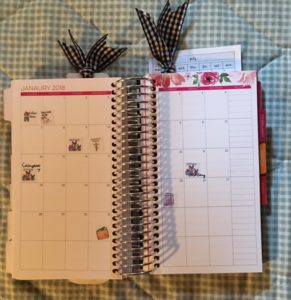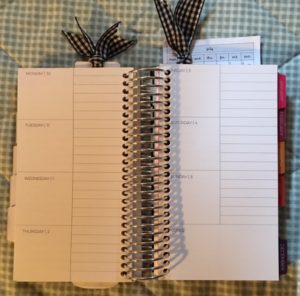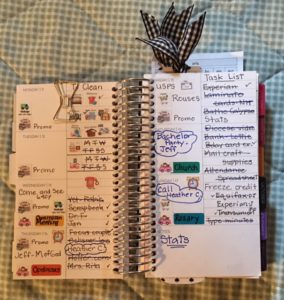 The following pictures are from my traveler's notebook. I use May Books in my notebook. If you are new to their site and sign up for their newsletter (they do not bombard you), you will received 15% off of your first order. I guarantee when you see all the books available and the many different sizes and pages available, you will be hooked! And they offer free ship Friday and other sales during the year. The company has even added clothing so you can match your planner if that is your desire! No matter what planning system I use, I can adapt my listing style to it. I have heard many, many people complain through the years that they haven't found "planner peace". I think it is because they haven't figured out their style, what works with their brain. Some people are listers, others are horizontal planners, some vertical. My advice is to ignore all the beautifully decorated planners being posted to social media and concentrate on finding your style. The decorating is secondary. Your planning style will keep you focused. As I said before, I can pick up any planner on the market and make it work for me.
If you are interested, I have a Facebook group that I help people discover their planning style and much more! It is called Simplifying and Planning 101 (https://www.facebook.com/groups/SimplifyandPlan). We work on planning, but we also tackle decluttering and simplifying our lives. It is a fun and drama free group.
Keep in mind that the book you see below is one of many styles offered by May Books This is a week on two pages with graph on the lower half. I am a huge fan of graph paper! The second photo is planning ahead with sticky notes. I'll use sticky notes on upcoming weeks until the week comes up. This way if something changes, it's easily moved. I am also a fan of Frixion pens. They erase! I hate pencils so this discovery was wonderful! The last photo is a week gone crazy with a few stickers added for color.
And I have to add that as we say in the Planner World, the pages are like butter in both of these planners. A paper planner gal LOVES her paper and both of these planners live up to the test.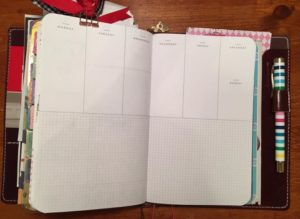 This style of May Book is undated which allows me to hop between my two planners with ease. The company offers dated styles.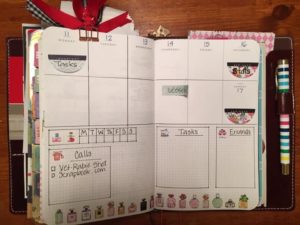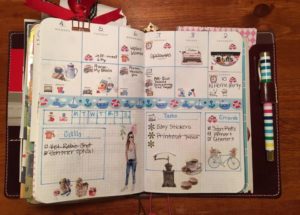 These are my all time favorite, hands down, pens. With arthritis, these pens are the reason I can still write. I love the colors and the ink flows so easily and the pen glides across the paper. It literally takes no effort on my part to write. I am not a fan of white-out or eraser tape so the fact that these pens are erasable can't be beat. If I were to show you my desk drawer, you would see a stock pile of pens and refills for the Frixion pens.
(The links provided are affiliate links and do not cost you anything to use. When you make a purchase using these links, I earn a minimal amount which helps my blog stay active. I appreciate your support. I will only recommend products that I personally use and approve of.)
These are another favorite of mine. I love the vibrant colors and they flow across the page. While the Frixion erases, these do not. These pens are top button push and the Frixion's clip on the side pushes the point into place.
I found these adorable pens that I'll be trying out! The colors caught my eye and I can think of several kids next door who would love these little stinkers!
Are you a paper planner? What system do you use? And pens! What would you recommend? I would love to hear from you planners out there.
Shop Amazon - Best Selling Products - Updated Every Hour