I've decided to begin posting a little snippet each day of what's going on in my life, what I'm doing, reading, watching, etc. It has been determined by the days flying by with no time to sit and write; and I miss that. I may have to do some grammar checking and adding of links when I can get to the computer but that is just how it will be.
Last month I participated in the #listersgottalistfaith challenge/journaling. There is a daily prompt and you journal (list) about the topic – as much or as little as you want. If you are on Instagram, look up the hashtag above and view what's been happening. It is a way to slow down and let your mind rest and be creative (or not) for a few moments. So, the time I might have had to write last month was spent feeding my soul by decorating my little book.
To be honest, I wasn't sure if I would enjoy it but surprise! I enjoyed it so much that when the monthly prompts arrived from The Reset Girl in my mail box, I eagerly printed them out. I will (hopefully) be posting my page each day. That is my goal. I'll also include s few photos from last month.
Don't expect great photos. I'm posting from my phone on the run. In fact, don't expect any until later. For some reason the photos aren't cooperating.
April 19th was our anniversary and we decided to take a little trip to get away for a few days. We have friends who go to Galveston Island every month for the Shriner's meeting so instead of heading east as we are prone to do, we headed west. We live in Southeast Louisiana outside of New Orleans – where they are currently getting rid of history.
I added an extra page to my listing journal. 19 years on the 19th. There's a corney saying it is your golden "anniversary" or "birthday" so we decided to be corney! I even got creative and added a flap!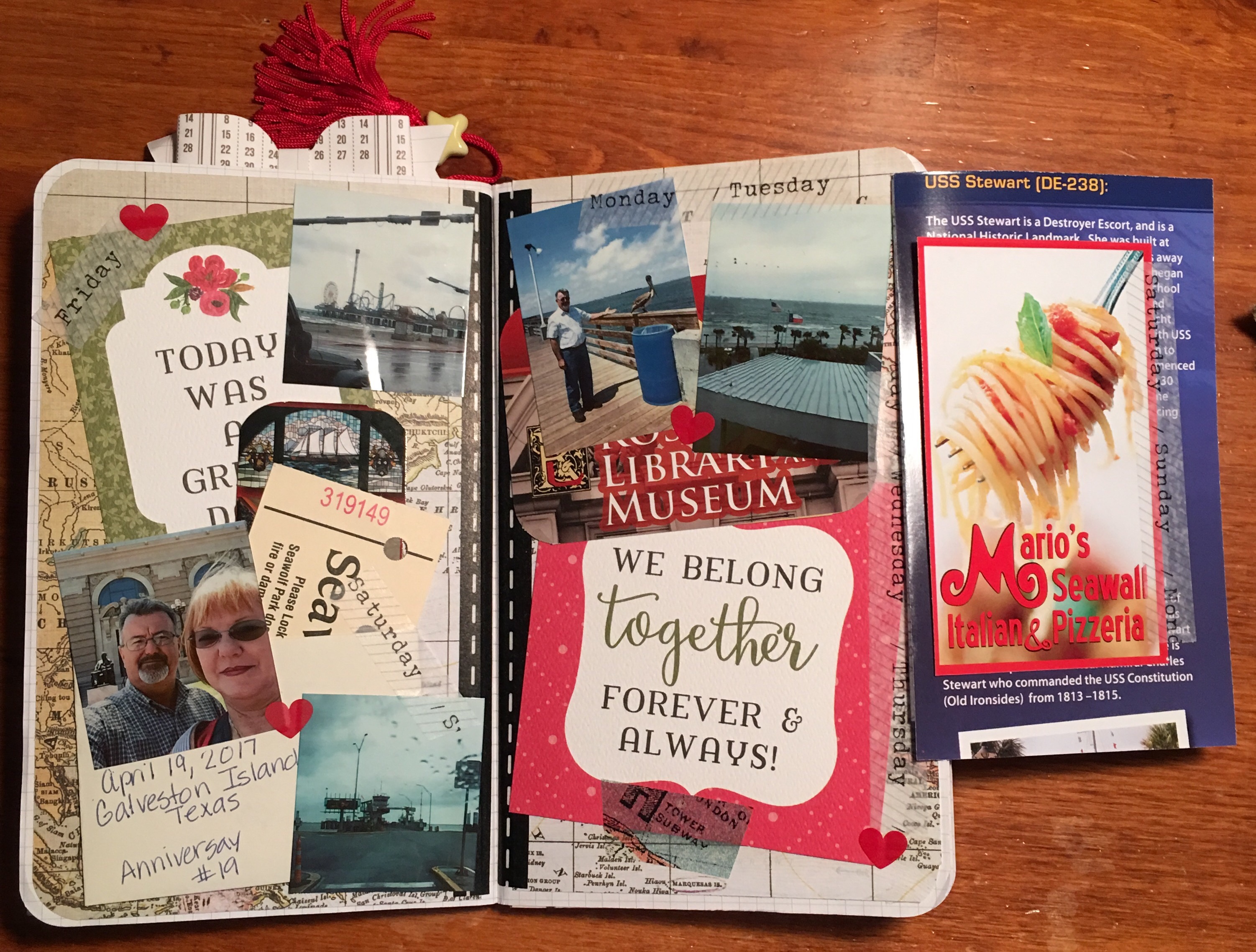 We took one route in and another back home for different scenery and to get a feel for the area. The ride in involved a ferry trip across the ship channel – not my favorite mode of transportation. The very ferry I rode on many times across the Mississippi River was hit one morning and sank. I haven't been on a ferry in more than thirty years.
The Galveston Island ferries are fairly large – we saw a tractor trailer on one and you literally could have fit three end to end – that is a good size ferry. They also glide so gracefully through the water. We had the chance to observe them the next day from a nearby island.
I'll be adding another post from our trip along with photos. It was a nice place to visit. I hope you pop in again later to take a look at the photos from the listers list. Who knows? Maybe you'll be inspired to drag out all the crafting supplies and participate!
Shop Amazon - Best Selling Products - Updated Every Hour