Example – Ryka and Calypso are examples of good dogs. Our Big Dog mower is an example of a pretty good dog. But, what this post is about is not the mower itself (although it brought about this post because it had a tire that wouldn't hold air) but about the hoops we had to jump through to get service with this brand.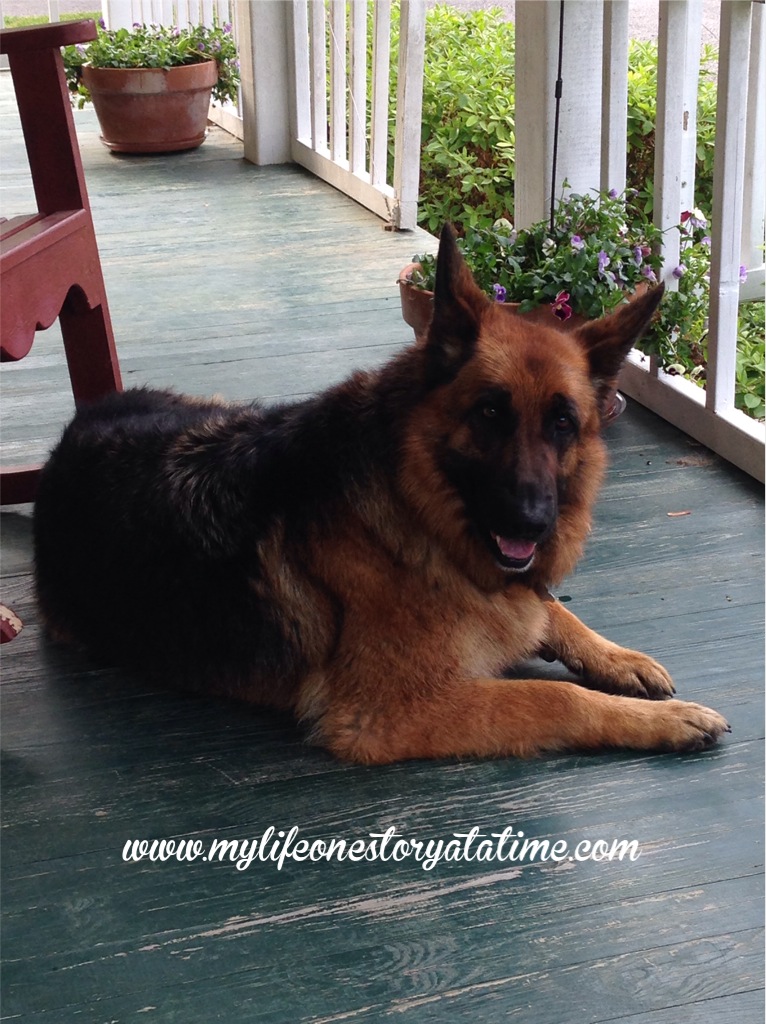 We purchased the mower about a year and a half ago after looking over a lot of mowers. Believe me, Hubby doesn't purchase anything without going over every aspect of something and then finding the best price. Not saying that isn't a good quality, just a frustrating one to someone who has zero attention span – and I was an unwilling participant in most of these expeditions.
Since Hubby had purchased a previous Big Dog mower from Leger's in Cut Off, Louisiana (and yes, I'm naming names!) and has not had any trouble with the mower, we also checked out the smaller Big Dog mowers for our personal property. The owner couldn't brag enough about his great service and after test-driving a mower (I was not on board with a zero-turn mower – if you read my blog, you know I tend to run over things with a normal mower and I sort of liked knowing that I had an engine between me and whatever I inevitably hit and I pictured myself hitting something and flying off of the zero-turn. Did I mention I also sport an active imagination? but back to the story) we decided to purchase our mower from Leger's. When we left he was still bragging about his wonderful service and we were thinking we made a good deal.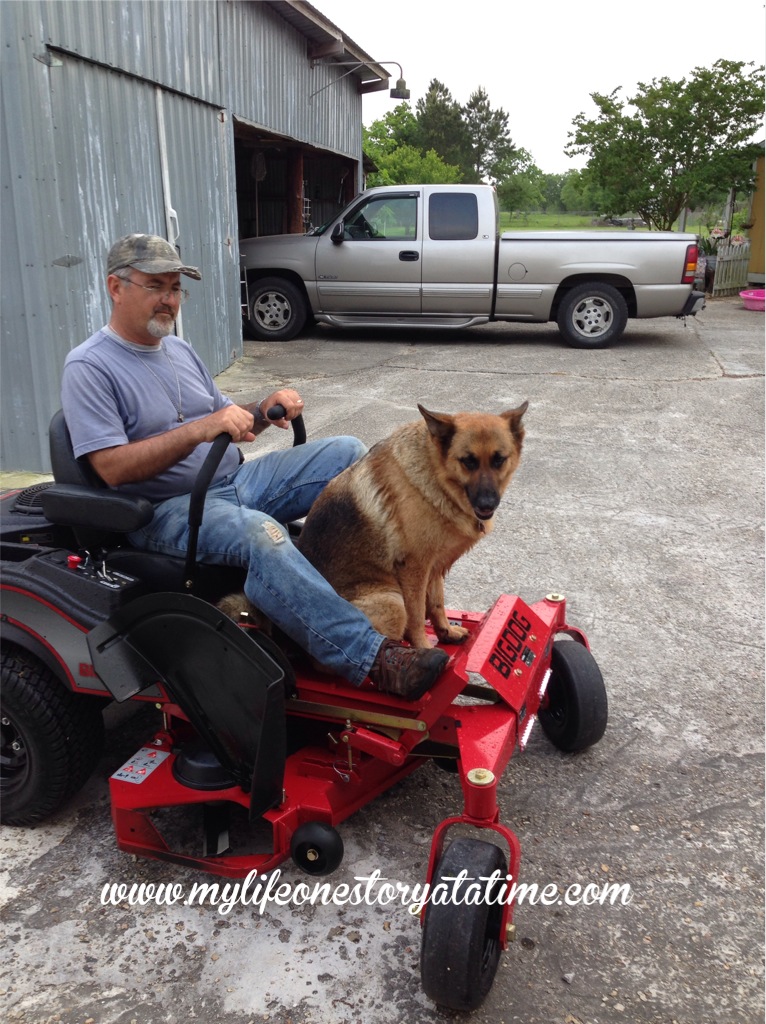 After the winter season, we pulled our mower back out for cutting grass. Hubby noticed one of the front tires was low and put air in it. He also check the other tires and the oil, etc. and the mower was ready for use. After a couple of weeks, I noticed that the tire was low again. We aired up the tire (is that correct) and off I went. This became a routine so Hubby called Leger's. Remember the great service he kept reminding us about? That didn't go so well.
Hubby told him the tire was not holding air and there seemed to be a leak around the seal. His answer was that the mower was out of warranty (which it wasn't) and there was nothing he could do about it. We were in touch with him a few times and after a few weeks of back and forth, the mower was out of warranty. He told us the company would not work with us. This went on for a another few days.
In doing research on how to contact the company, I came across some interesting information. There is NO phone number on their site. Nadda. Nothing. You can leave an email message, which I did. It took a while before I received a response. Meanwhile, I was at a loss and then I thought – everyone has a Facebook page! Sure enough, Big Dog had a page so I also sent a message via Facebook.
I received a response back and someone contacted my husband – while he was on a boat and couldn't hear. The rep didn't seem to care and kept talking. Hubby was more than a little upset. I messaged again and we finally connected with someone who was willing to help.
The initial contact with Big Dog began on May 21st. On May 24th, I was told that our contact information had been sent to the territory rep and he would be contacting us.
On June 1st I contacted Big Dog and let them know that the rep had not yet contacted us and would they please follow up. We were told someone would contact us the next day.
The rep contacted us and after all of the back and forth, phone calls and messaging, we were told a new tire assembly was being sent out. Two weeks passed and we received nothing.
On June 17th, I contacted Big Dog again. I was told that Leger's had been contacted and they would be supplying the tire and had we been in contact with them.
On June 18th, I messaged Big Dog that my husband had been told that the wheel assemblies would be shipped directly to our house and that he had spoken to two Big Dog reps, Ken and Johnathan, and it was Ken that told him the assemblies would be shipped to our house. When my husband spoke with Leger's, they told him they knew nothing about the deal. I asked them to explain what was going on.
I received a message asking for our shipping address so the distributor could ship the tire assemblies to our home. No explanation on the run around.
We were then told that the distributor was supposed to have shipped out the assemblies and had dropped the ball and he was waiting to hear back from them on a delivery date, which he would forward to me. (Someone please remind me not to "drop" $5,000 down on a Big Dog again.) He thanked me for my patience. Patience? Did I have a choice in the matter? No. If I could have shaken someone by this time, I would have.
On June 22nd, we received a package, a very heavy package which the substitute (poor sub) of a UPS man tossed over the fence to me with no warning as to the heaviness of the package, but that's another issue. Problem #1 – two tires, wrong size. Problem #2 – used dirty tires.
I messaged the Big Dog rep again and sent pictures and asked him if he was in charge or was there someone else I needed to speak to.
These were the "new" tires we received. They were not new. They were used. They were dirty used tires. They were tires with no threads. They were tires with grass stuck to them. Really?!

We finally received the correct tire (and it was a used tire). Since it fit, we kept it. They also included a return shipping label for the previous tires they sent. I had not opened the mailing label, but had the box all ready to go when USP stopped by. Not realizing this, Hubby grabbed the box and handed it off to the driver. Imagine my confusion a few days later when we received a second box from Big Dog. When I opened the box, I found that the tires looked quite familiar. Turns out they were!
You just know this had to have a Lucy story somewhere in it. I thought it was so funny and I can't possibly describe how long and how hard I laughed. Icing on the cake! The more I laughed, the madder it made sweet Hubby. He didn't think it was funny. That made me laugh even more.
The first tires got mailed off and I received yet another message from Big Dog apologising for all of the trouble we had and they wanted to send us a token – some Big Dog gear – translation – a t-shirt. Yep! That was funny too. We never did receive the t-shirt. That's not funny, just plain sad.
This entire fiasco took place over the course of two months. My opinion on the Big Dog mower – it's a good mower and I would recommend it. We have two different sizes and we are pleased with the overall performance of both. They are comfortable, maneuver easily, do a great job cutting the grass, and have the power needed to do the job.
BUT, and it is a very HUGE BUT, I would make sure that the dealer I purchased the mower from lived up to his promises. We have since spoken to different people. It is almost a trend that if you have money, you get good service. If you are willing to fight and have the time and intelligence and the persistence to do so, you will get results. If not, be careful who you purchase from. We have located another dealer not much further away, and someone we have done business with and were pleased, and plan on dealing with him should the need arise.
I will reiterate that you need to deal with a reputable dealer because should you need to take the problem further, it is difficult. You must rely on Facebook messaging and emailing from the site and hoping that someone calls you. There is no number for complaints or for information. However, I have phone numbers so if you have problems I'll be happy to share.
I think I'll go and check the mail. Never know if that t-shirt will show up.
All the opinions expressed in this blog post are strictly my own and there are no affiliate links.
Related articles
Shop Amazon - Best Selling Products - Updated Every Hour