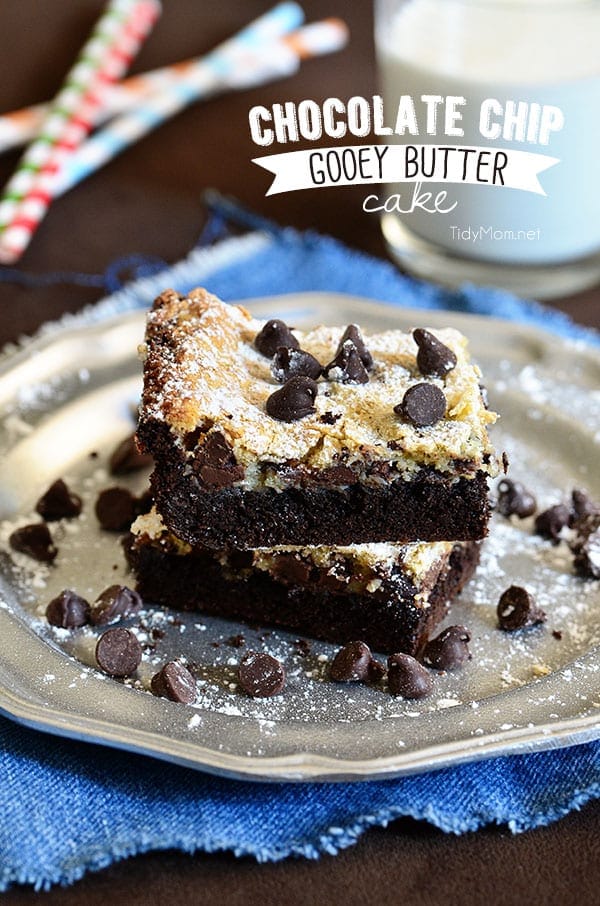 If you aren't familiar with gooey butter cake, it's a St. Louis tradition that has spread nation wide. The original gooey butter cake version had a sweet yeast dough topped with a gooey butter filling that was sweet gooey.  The modern recipe is simplified by using a cake mix, which becomes the crust and is topped with a sweet creamy filling made of cream cheese, butter and sugar.  SUPER easy!
So, this time I decided to combine elements from our two favorite gooey butter cakes, and use a chocolate cake/crust and add chocolate chips to the ooey gooey filling for a Chocolate Chip Gooey Butter Cake!
This cake actually resemble a bar-type dessert instead of what we know as a traditional cake, so feel free to eat it with your hands, like a bar or brownie!
A St. Louis specialty that couldn't be easier to make and  everyone is sure to love it!
This St. Louis specialty with a chocolate twist couldn't be easier to make and everyone is sure to love it! Perfect for your next party or pot-luck, everyone will be begging for the recipe.
Ingredients
1 (18-1/4 ounce) Box Duncan Hines Dark Chocolate Fudge Cake Mix
1 large Egg
1/2 cup butter, melted
8 oz cream cheese, softened
2 large eggs beaten
2 tablespoons brown sugar
For the Cake For Filling
1 teaspoon vanilla
2 cups powdered sugar
1-1/2 cups chocolate chips
Instructions
1. Heat oven to 325° F and lightly grease 13×9-inch pan
2. Using an electric mixer, combine cake mix, 1 egg and melted butter until well incorporated. Press into bottom of greased pan with fingers.
3. Using an electric mixer, blend, cream cheese, 2 beaten eggs, brown sugar and vanilla. Then slowly and powdered sugar and beat until smooth. Stir in chocolate chips.
4. Spread filling over cake batter, and bake for 40-45 minutes, or until edges are brown. (Do not over-bake, the center should be a little gooey)
5. Dust with powdered sugar on top after cake has cooled and garnish with chocolate chips.
Notes This cake is even better the next day and can be prepared up to three days in advance. If you can not find the Duncan Hines Dark Chocolate Fudge Cake mix, any 18-1/4 ounce dark chocolate cake mix will do.
Borrowed from – http://tidymom.net/
Related articles
Shop Amazon - Best Selling Products - Updated Every Hour