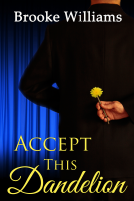 Renee Lockhart has her eye on a lofty goal…to fill the open position of morning radio show host at the station where she works. When her co-workers sign her up for a local TV version of The Bachelor, Renee goes along with it in order to raise her profile.
Upon seeing her bumbling audition, Ben McConnell, one of the most eligible bachelors in town, insists that Renee be placed on the show. But Ben gets much more than he expected in Renee… he gets a girl who can't seem to do anything right…and a girl he can't seem to resist.
Brooke Williams is a former radio announcer/producer and script writer turned freelance writer and author. When Brooke's first daughter was born in 2009 she left her full time radio career to stay home. Eventually, she realized she could fulfill her lifelong desire to write while her daughter napped and she then entered into the freelance writing world. As her business grew, she took on clients from all over the world and began to dabble in fiction writing once again. Brooke has several books on the market including her first novel, "Someone Always Loved You" and the thriller "Beyond the Bars." Her upcoming released include "Wrong place, Right time" (December 9th 2014 from the Writer's Coffee Shop), "Accept this Dandelion" (feb 2015, Prism Book Group) and "Mamarazzi (August 2015, Prism Book Group.) She even has a children's book under contract for Feb 2016. Brooke loves all things writing and currently specializes in clean romantic comedy, though she's written a bit of everything.
Buy on Amazon in these formats:
Kindle
My Review:
Accept this Dandelion is a great book from start to finish. The humor is outstanding and I found myself crying from laughing so hard. It is tender and romantic. The writing was great. I really really enjoyed this book.
Renee couldn't do anything right. She fell at his feet, lit herself on fire, pushed him into pools, told him embarrassing stories, and admitted to hearing voices. Why did he not alert security to her presence and have her escorted from the premises?
If I say anymore on the subject I will definitely be spilling the beans on the entire story. I would recommend this book to anyone who loves romance and loves the combination of comedy and romance. You will devour this book in one sitting. I'm giving Accept this Dandelion five stars.
My Life. One Story at a Time. is an Amazon advertising affiliate; a small fee is earned when purchases are made at Amazon through the link above. A free book may have been provided by the source in exchange for an honest review. Views expressed by authors are their own and do not necessarily reflect the views of My Life. One Story at a Time. My opinions are my own. This provided in accordance with the FTC 16 CFR, Part 55. 
Related articles
Shop Amazon - Best Selling Products - Updated Every Hour