Housework? Overwhelming? What alternate universe do you live in?
Hey! Don't hate me because I've figured out a schedule that works for me. I'm one of those overly organized people who make a schedule and God help the person who tries to make me change it without loads of prior notice.
Now I am realistic enough to know this post could potentially bring out the beast in some people, but those may be the ones who let life overwhelm them instead of using a planner and a schedule to help them corral life. Yes, I just said that and now you can't see me because I'm hiding behind the sofa to escape the tomatoes and watermelon being thrown at me.
All kidding aside, I am a person who functions best with a schedule, although I have been known to fly by the seat of my pants – once or twice in my 56 years. And I will admit that the schedule is a guideline and I do deviate from it on occasion.
I live in a small cottage (approx. 950 square feet). It has two bedrooms, two baths, kitchen/dining, and a living/library. Although, when I lived in a bigger house the same system worked.
I developed a system years ago of cleaning one room a day. Trying to clean the entire house in one day? Did I mention that I have zero attention span and I get sidetracked VERY easily.
I've had a lot of questions about my cleaning schedule and will list it below. Then, I'll be posting several times this week on how and what I clean, since I've had requests about that as well.
Monday: Bathrooms
Tuesday: Library/Living Room
Wednesday: Office
Thursday: Kitchen/Dining
Friday: Bedroom
Saturday: miscellaneous
Sunday is God's day.
On Mondays you can find me cleaning the bathrooms. My bathroom doesn't really get that dirty, unless you count all of the baby powder I can't seem to get rid of. Picture a duck splashing in the pond. That's me with the baby powder. I have yet to figure out how all of that powder flies everywhere! Which also brings to mind a funny story (maybe one of those had to be there to get it stories.)
A friend of mine stopped by one afternoon to walk. She went into the bathroom to change and put her clothes on the floor. It looked clean, but when she picked up her clothes, she noticed what she thought was dust. She came out of the bathroom all excited thinking that my house wasn't that clean after all! Imagine the laugh when I told her it was baby powder. I now keep a swifter in the bath to clean up the powder.
Getting back to the bathroom cleaning routine, the bathroom truly does not get that dirty because it is in a constant state of cleaning. I shower in the morning. I am not a bath person so the tub doesn't get dirty. This is also partially due to having a rain shower head that drops water straight down as opposed to spraying all over the shower (believe me it makes a difference.) I also use a squeegee once I turn the water off. That's all it takes to clean the shower. Once a month, I'll spray and wipe down the shower walls. It is also my habit after a shower in the morning to change out the hand towels. I keep Fabuloso in a spray bottle and I'll spray the sink and counter and wipe off with the dirty towel. If I think about it, I'll wipe the steam off of the mirror cleaning the mirror at the same time. I always take my dirty clothes and put them in the hamper in the laundry room.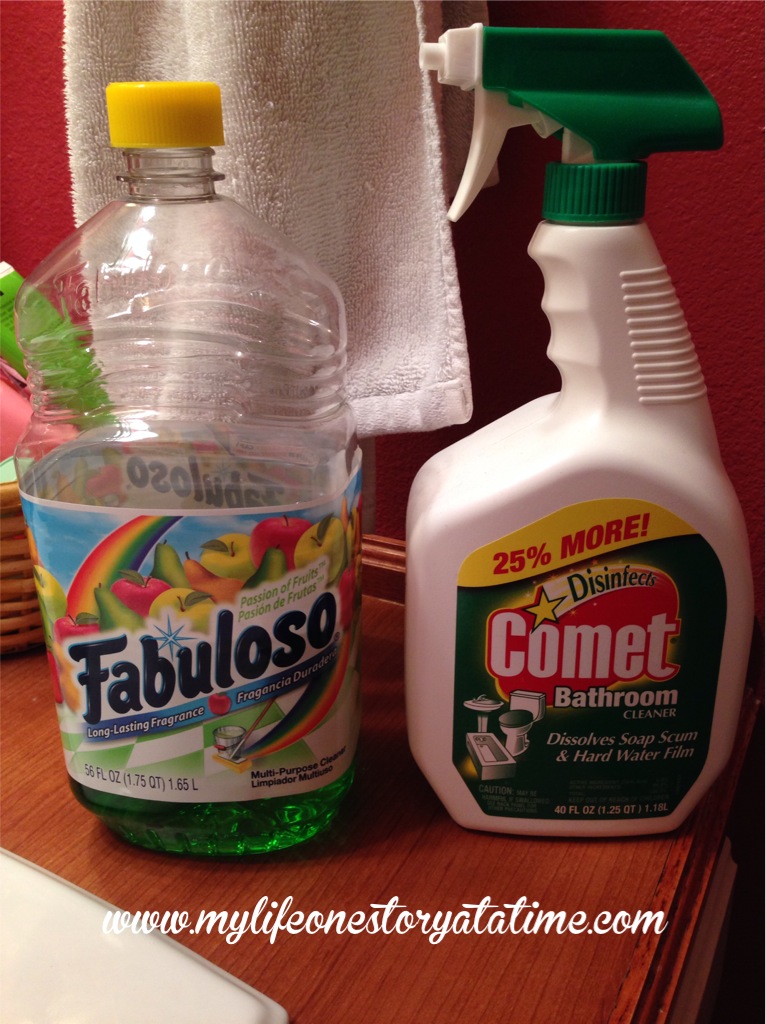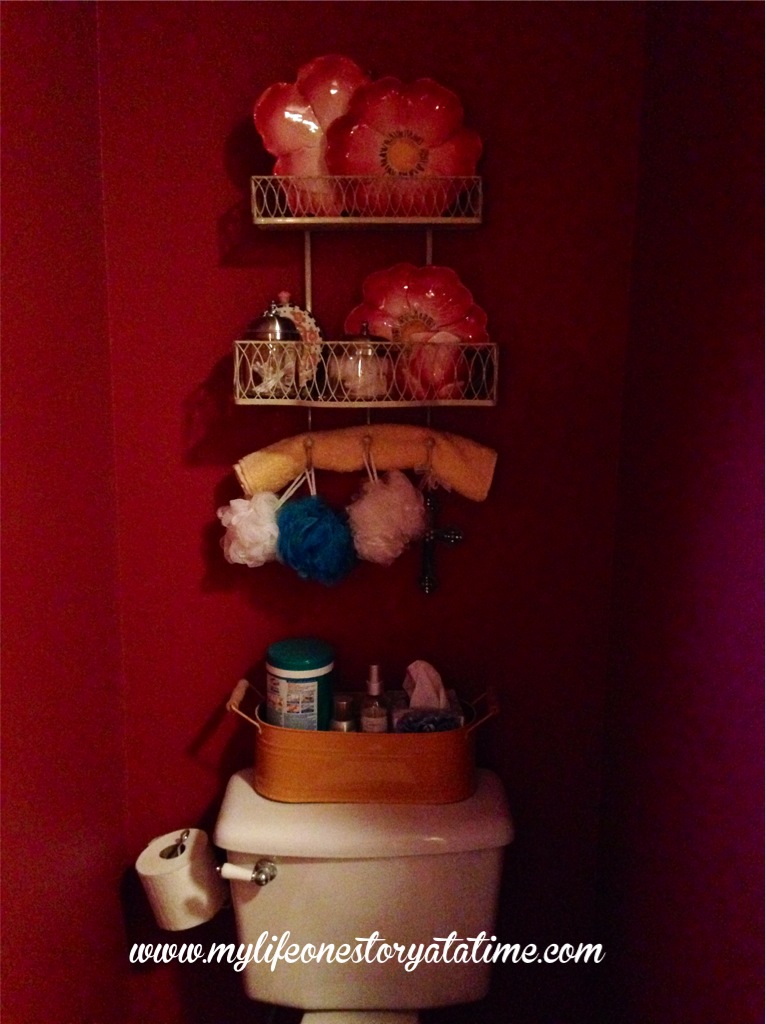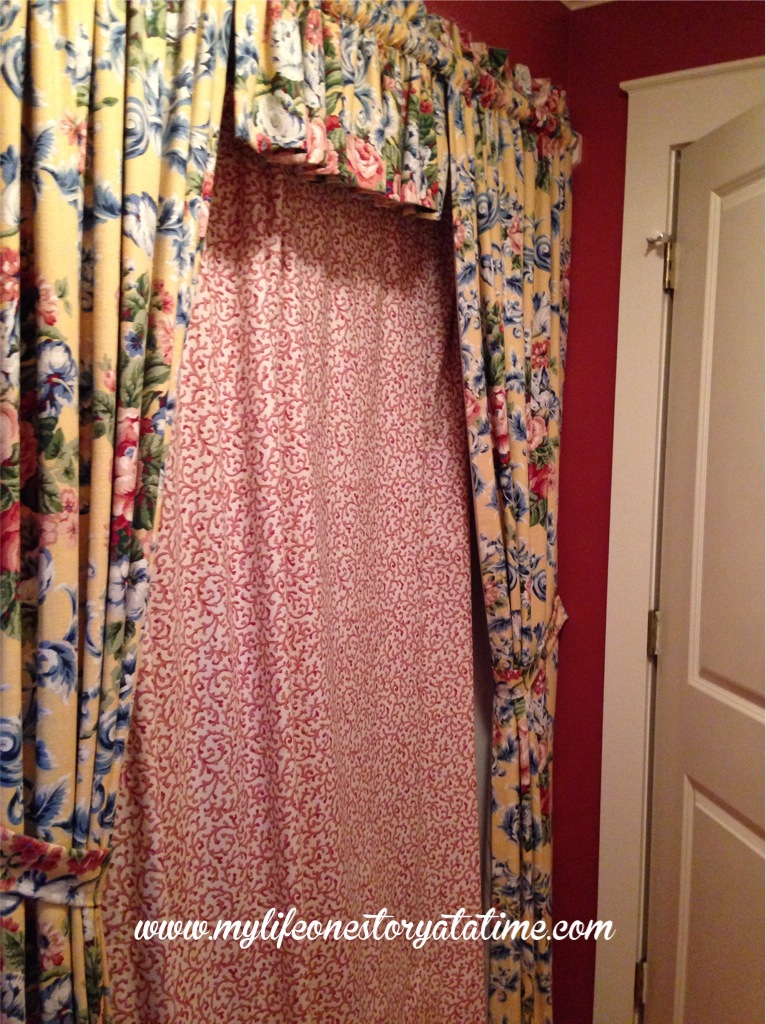 There really isn't much to clean on Mondays except for the toilet, because it stays clean. I spray the toilet with Fabuloso and wipe down. In between cleanings, I may use Lysol wipes. All of the above maybe takes 15 minutes. And I don't use anything exciting. I use the two products in the photo and Lysol wipes.
Tuesdays are clean the library day. I refer to my living room as the library because it houses all of my bookcases – big surprise there! There are no carpets in my house, only a few rugs and those get vacuumed on Saturdays. Mostly all that needs to be done is dusting – and there's a lot of that with all my shelves and books. I also dust the ceiling fan and the baseboards. After swiftering (the most amazing thing to ever be invented,) I'm done. I have wood floors throughout my house so I don't wet mop too often. A damp mop once a month is all it needs to pick up that extra dust. Once every couple of months, I'll vacuum under the sofa cushions if I've seen Hubby eating snacks there. I also swifter each day – 5 minutes to go through the entire house, that's it. For wet mopping, I use Fabuloso in the water. (Excuse that stack of blankets – it's winter. They are normally stored in the ottoman on which they sit.)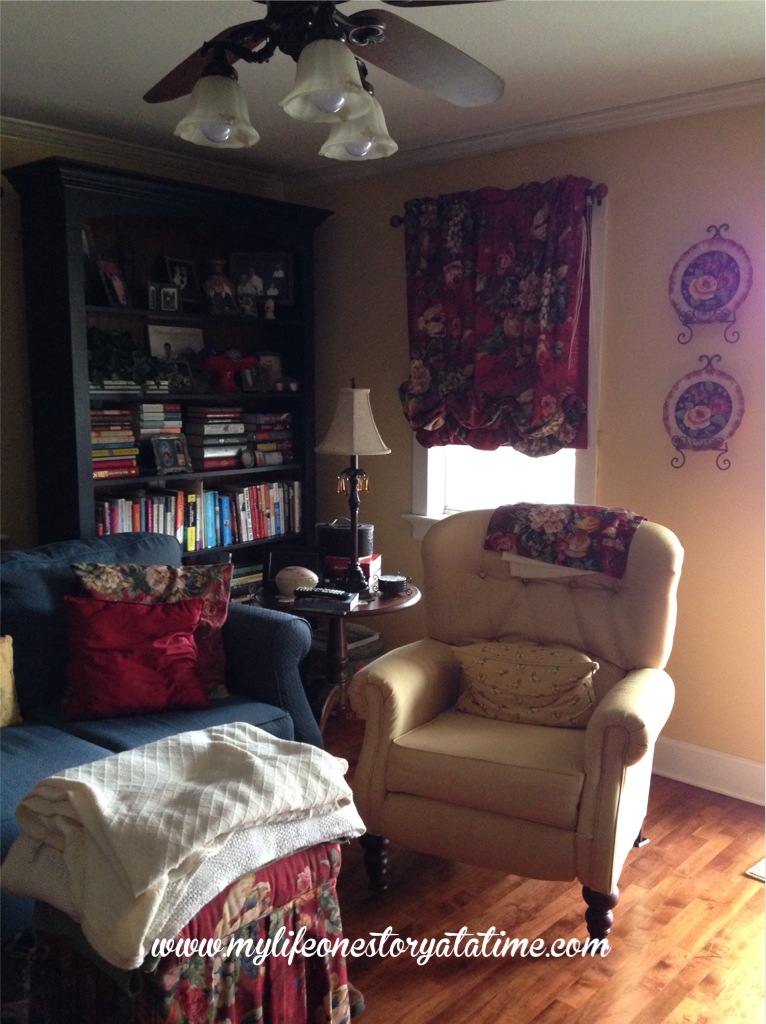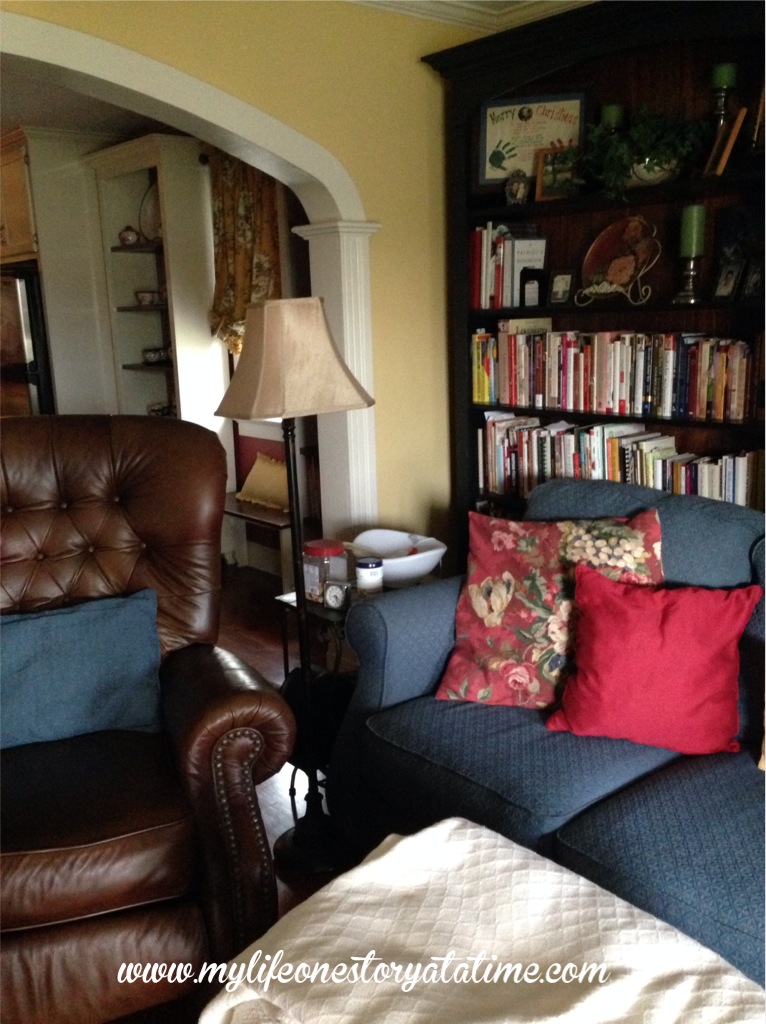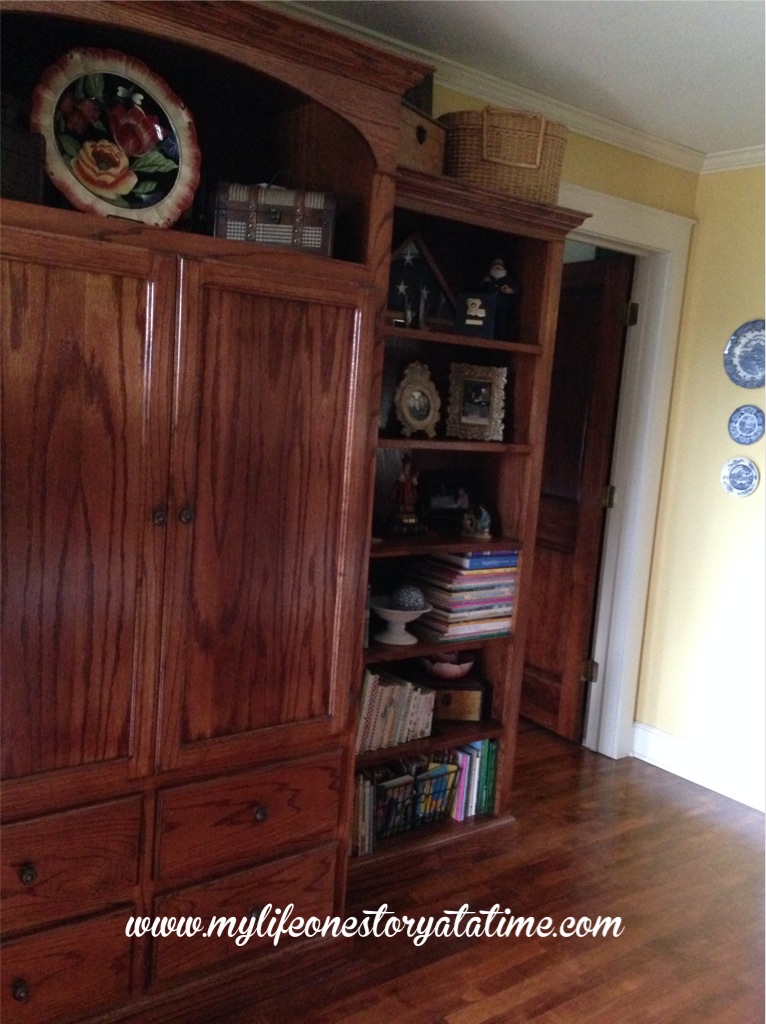 When friends stop by they are always amazed at how clean my house is. My reply is it should be as there are only two people living in it – Hubby and me. Plus, I never walk through my house with empty hands. I am a firm believer in everything has a place and everything in its place. When I walk by the sofa, I take a second and straighten the pillows. If something is on the table, I grab it as I go by and deposit it in the kitchen sink, etc.
I will tell you a secret here (and deny it with my dying breath) but I do have a "messy" little secret and I'll be cleaning it tomorrow – my office.
That's my cleaning spill for today. If you have any questions or would like to contribute your cleaning secrets – please leave a comment!
I just LOVE when someone stops by and comments, especially when I've been remiss about explaining something. Such was the case involving the Swifter. Now, without further adeaux, I present the "SWIFTER DUSTER AND SWIFTER VACUUM". I officially thank whoever came up with this ingenious idea. If I weren't already married, I'd marry them!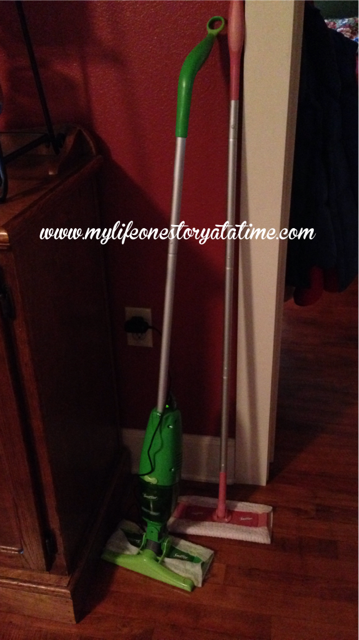 Related articles
Shop Amazon - Best Selling Products - Updated Every Hour